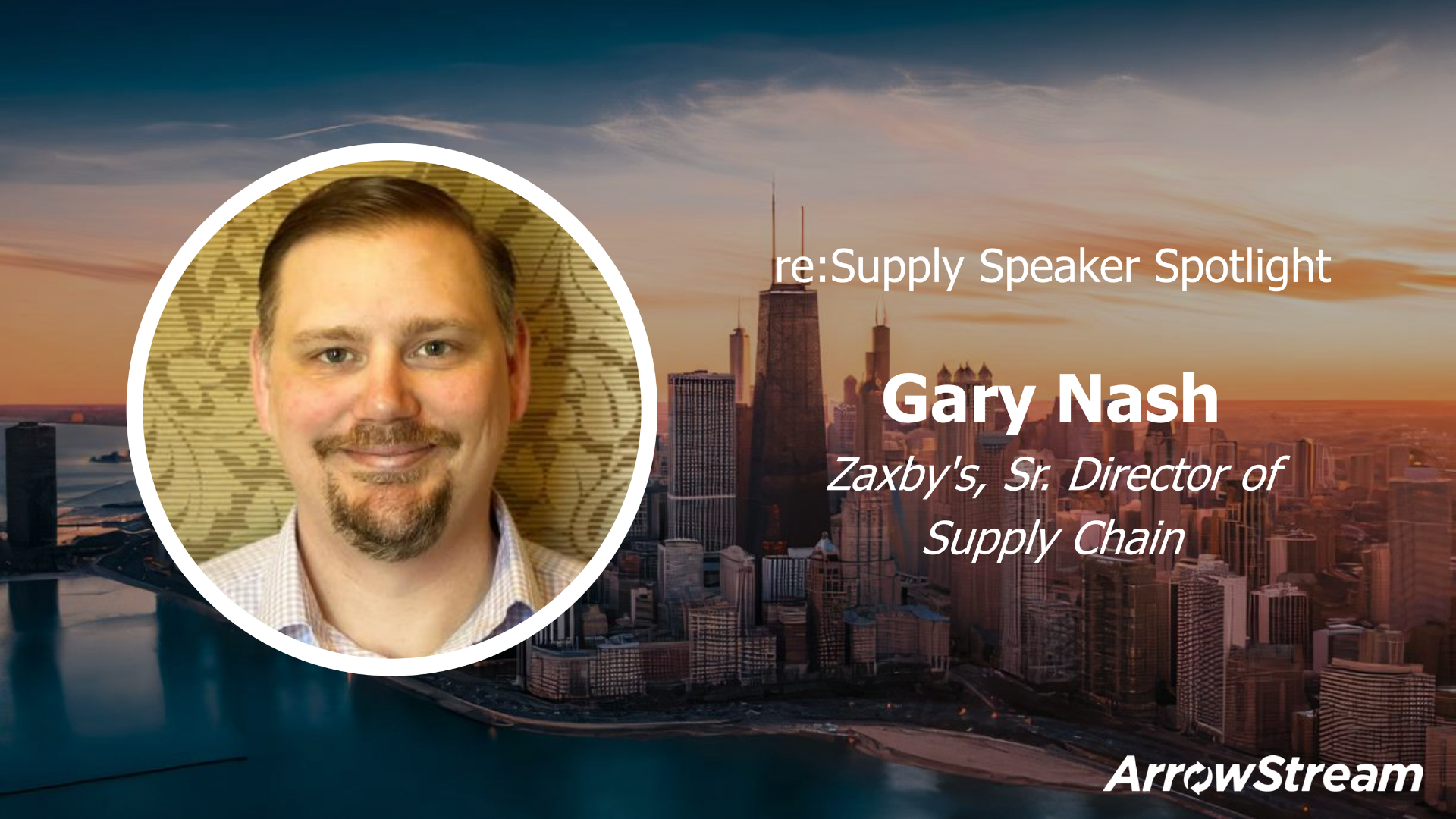 ArrowStream's re:Supply Innovation Summit will be hosted on July 28th, 2022 – bringing together top foodservice brands to collaborate, innovate, and move the industry forward through today's challenges. In the lead up of the event, we are thrilled to present an interview with Gary Nash, Senior Director of Purchasing at Zaxby's Franchising LLC. Gary began working in the foodservice industry at the age of fourteen, and now has nearly thirty years of industry experience. Prior to his time at Zaxby's, Gary was the Senior Director of Supply Chain at Focus Brands and a Purchasing Manager at Hooters. Gary will be part of the panel discussion on 'Rethinking Data Collaboration' at the re:Supply Innovation Summit – a rare opportunity to see leading suppliers, distributors, and operators discussing foodservice industry news in conjunction.
Could you tell us about yourself? How did you get into the industry? How long have you been in foodservice?
I got started in foodservice when I was fourteen years old, in 1992. At that time, in Missouri, you could work at a restaurant, and I got a job running the drive-through at Taco Bell. After that, I got a job at Chuck E Cheese cooking pizzas. Ever since then, I've stayed in foodservice throughout school and my career. My first foray into corporate America was working in the back of the house at Hooters. I was ultimately recruited to come work for the corporate headquarters in Training & Development. It's been over twenty years and it's been an amazing ride. I couldn't imagine working in any other industry.
What has changed about the foodservice industry since you started?
The only thing that hasn't changed is that there's hungry people looking for food away from home. Everything else has changed: the number of choices people have to dine out, the number of suppliers capable of producing product, and the guests have changed dramatically in terms of needs, wants, and lifecycle. The most significant change is technology. It's affected the way people think about food, order food, and get their food; supply chain teams have had to adapt the ways they get information.
How do you think technology has impacted the industry?
It has enabled supply chain teams and brands to do more, to get connected with real time information and make decisions off them. Twenty years ago, you'd be faxing order guides to the distributor. Even today, there are still manufacturers who accept orders via fax machine.
With ArrowStream's technology and platform in particular, the data we can glean has enabled our team to do more with less. Without ArrowStream, you might need six different HR functions or head-counts to perform all the brand's needs. The auditing functions, the inventory analysis, the quality incident management – all of that would done manually. ArrowStream has enabled us to have one source of data, one source of truth, and one source of communication.
What's your favorite thing about working in foodservice? How do you think working in foodservice differs from other industries?
For me it's about the pace and the people. Things move a lot faster in a foodservice supply chain organization. It takes a different kind of person. They mostly come from working in restaurants and have that shoulder-to-shoulder camaraderie. People in foodservice give with their whole heart and that's why I love it.
What's the biggest obstacle you've faced in your career so far?
Managing expectations of leadership and departments that aren't quite up to speed on the supply chain. Educating shareholders and business leaders over the last few years and managing peoples' expectations has been tremendously challenging. Lack of true visibility into supply chains has also certainly been an obstacle.
Where do you believe things are headed with the future of the supply chain in 2022 and beyond?
At the corporate level they're going to want to enable different levels of technology and address the changing behaviors and beliefs of their customers. Guests are getting their food digitally and off-premises and we'll continue to see that in the future. Dining-in is going to become more of an occasion, not something you do every Wednesday.
Is there a company or a person you admire and why?
Tesla Motors and Elon Musk. He's a visionary and doesn't let preconceptions dictate the future. He's also a troll by nature, which I love. He has many different things going on at once and he's successful at all of them. I really enjoy Tesla Motors' products.